Planning an Easter party this year?
We've come across some super fun after dinner treat ideas to inspire you; whether it's a children's party or strictly adults. So lets cut to the chase and start discussing some amazing treats you can easily whip up at home.
Easter Egg Cereal Bowls
Black Milk, a cereal cafe based in Manchester's Northern Quarter, nailed it with their Easter bowls a few years ago and we're obsessed! They cleverly use half a large Easter egg as the bowl, filling it with your favourite cereals and toppings (mini eggs, marshmallows, chocolate sauce; the lot) and topped with your preferred flavour of milk. Certainly one for the Wonka Factory.
Do ensure everyone is able to sit at a table to eat this fantastic sweet treat though, as it's not the most elegant dessert.
Easter Nests
For an easy treat that everyone will enjoy, opt for the understated Easter nests, made with cornflakes. It's an easy and cheap recipe, that looks and tastes delicious. You could even have guests make their own, to make it a little more fun (and a little less work for yourself). This is great if there are children at your party, who love getting creative and messy.
On the other hand, if you're wanting to get a little more creative, why not try these delicious meringue nests. They're really simple to make and look amazing once dusted with some cocoa powder and topped with mini eggs and flower petals. They are just as tasty as the original cornflake nests, yet lighter and much more aesthetically pleasing.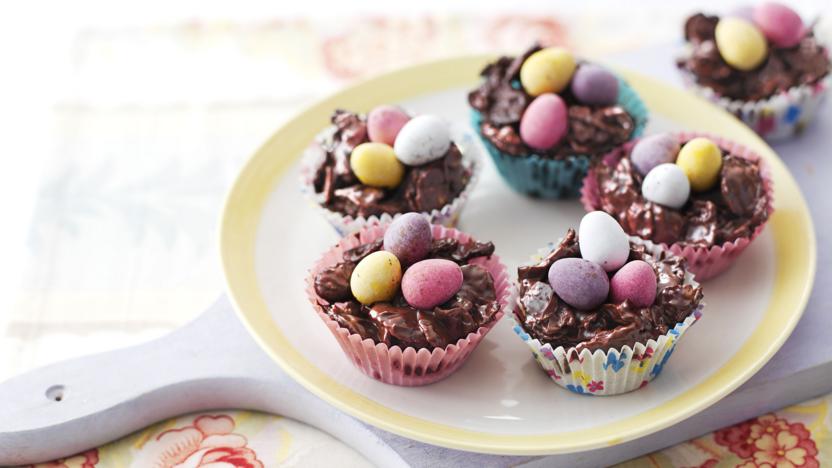 Pinterest Image – Cornflake Nests
Hot Cross Buns
We can't talk Easter, without discussing hot cross buns. Follow the link for some different variations of the recipe, to suit all of your Easter needs.
If you're wanting to treat your guests to a lunch that's a little out there, we've actually recently visited the Lowry Hotel, who have added Hot Cross buns to their afternoon tea menu. And no, they don't come as part of the dessert section, but as a sandwich! They come with maple cured bacon and goats cheese; and from experience, I can clarify that they are delicious.

Pinterest Image – Hot Cross Buns
Whilst we're not claiming to be the best bakers, we are all about presentation! There's something that adds an extra something to freshly baked goods placed in a cute basket with a gingham blanket. And why not dress up your snack area with these adorable egg carton displays. Filling empty egg cups with candle wax, soil and cress or even jam and butter to place with the hot cross buns. This is a lovely way of getting young children involved with the whole family too, because who doesn't love a crafts weekend over the bank holiday!
Easter Cocktails
Lets jump straight in with the super simple, Aperol Spritz. Channeling a Spring terrace vibe, with the benefit of an orange carrot colour that screams Easter Fiesta. This can be garnished with a slice of dried orange and a touch of sage or rosemary, to stick out and mimic the top end of a carrot.
Cottontail Martini
This Cottontail Martini is ideal for those with a sweet tooth, as its filled with coconut rum, whipped vodka, cream of coconut and pineapple juice.
Rimming the glass with sweet coconut and and garnished with a white marshmallow on the side, giving the a look of a bunny; this makes for a perfect martini for your Easter Shindig.
Candyfloss Champagne Cocktail
This is a simple, yet effective, way of getting a great reaction from your guests. Lay out some martini glasses (just make sure that the flowers fit in the flute). Cover the top of them with candy-floss, with the edible flower underneath and allow your guests to watch as the candy-floss disintegrates and the flower rises through to the top. Why not use some pop-a-ball shimmer powder, adding a little flavour and sparkle to the prosecco.
Bottoms up!