If you don't already know who Virginie Viard is, she's the new Creative Director of Chanel and has just presented her first Haute Couture show. Showing homage to Karl Lagerfeld and his dedication to these productions; Viard transformed Grand Palais, into yet another iconic setting- welcome to the Chanel Library!
Through the Years
The Chanel sets are always something that leaves us in awe and has us in discussions over production and details. Karl Lagerfeld's previous years as Creative Director have seen Villa Chanel, airport terminals, recreations of Parisian streets with models staging a feminist protest and building their very own Eiffel Tower. These impactful themes, really bring to life the beauty of the brand. They highlight both Chanel's values and their emphasis on 'ready-to-wear' style.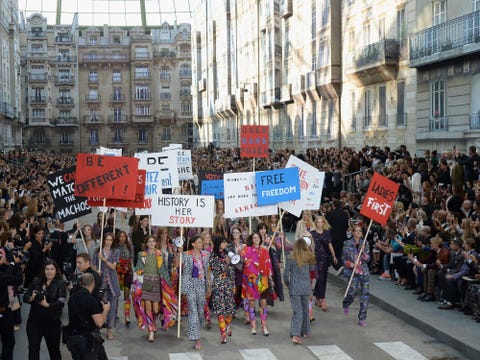 Something we love about every show, is the attention to every detail, and the many purposes of their models. Everything down to the way in which they use their models as performers, transforms the show entirely. They are beautifully presented, every time.
Autumn/Winter 2019
This set was every bit a reflection of the couture AW19 collection, with Chanel's elegant and chic appearance present throughout. From the grand scale of the library and the decadent style of Parisian furniture, to the incredible gowns and suits presented. We also get the feeling the grand French library could be representing the 'Beauty and the Beast' style setting, to partner with the overall style of the collection, which is both feminine and breathtaking. We look forward to seeing the future of Chanel and watching Virginie Viard's vision come to life.