Whether you're having a date night with your other half, planning a Galentine's celebration or you're in search of cocktail inspiration for the weekend, we've got you covered with these tasty Valentine's Day cocktails!
have selected 5 of our favourite tipples below:
Pink Negroni
A classic that's perfect for every taste, especially this sweetened version. Adding a pink blush twist on the staples of a negroni, it makes for the perfect valentine's drink.
35ml pink gin
25ml rose vermouth or sweet white vermouth
15ml aperol
ice
wedge of pink grapefruit and a basil leaf to garnish
Find the full recipe here: Pink Negroni

Moscato Sangria
A Galentine's favourite! Refreshing, versatile and fruity – what's not to love? Keep chilled and add ice throughout the night.
1 bottle of Moscato wine
½ cup strawberry vodka
2 cups of soda (lemonade, lemon and lime soda)
Fresh strawberries to garnish
Find the recipe here: Moscato Sangria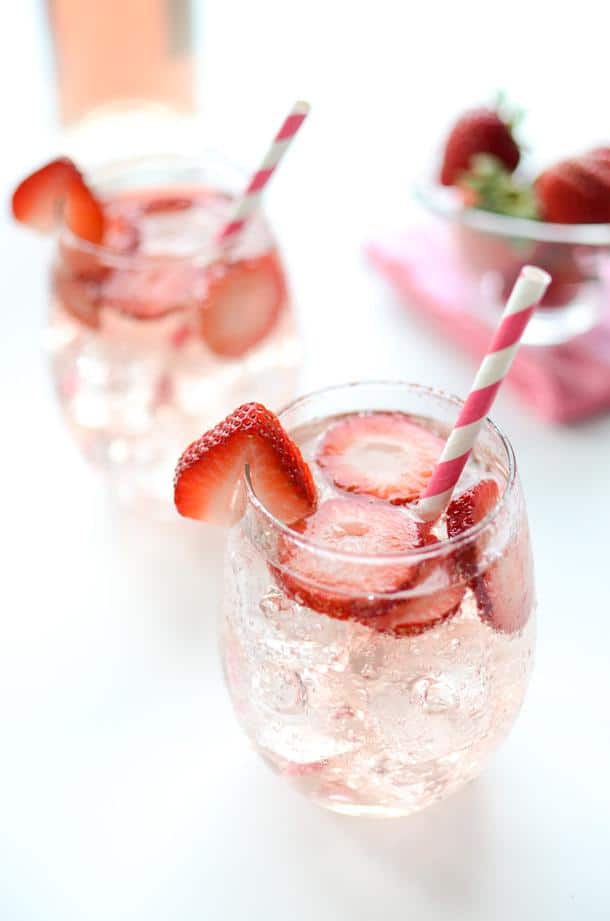 Bramble Royale
It's love at first sip with this festive twist on the classic Bramble.
50ml gin
25ml lemon juice
¾tbsp sugar syrup
ice cubes
crushed ice
¾tbsp crème de mure
1 lemon slice and a blackberry (if in season) to serve
Find the steps here: Bramble Royale
Sweetie Martini 
Perfectly coloured to match the holiday of love, and you won't need to buy a dessert – win, win!
2ounces vanilla vodka
2ounces Godiva white chocolate liqueur
1ounce amaretto liqueur
1/2ounce grenadine
2ounces half and half
Honey and sprinkles for garnish
Find the recipe here: Sweetie Martini
Comspolitan 
Let us not forget the fun and fruity classic, spiced up with a hint of orange.
1 ½ parts Grey Goose L'orange vodka
½ part Cointreau liqueur
1 parts cranberry juice
¼ part fresh lime juice
Cubed ice
To garnish: orange zest
Find the recipe here: Cosmopolitan
And in case you want to ditch the Tuesday hangover but still want to show off your bartending skills, you can always opt for a selection of delicious mocktails.
Contact us today to find out how we can help you plan your next big event!
0161 484 0876 | info@entertainmenttoday.co.uk